about us
At CPG, we believe successful relationships are built on trust, understanding and open communication. From the beginning, that has been our philosophy. We are an independent, client-focused firm. We don't just manage people's money. We align with our clients. We educate them. Not only about their investments, but about anything and everything that might affect their total financial picture. We focus on every aspect of our clients' wealth, custom designing comprehensive plans to use and/or distribute their assets, protect their wealth, and help them realize their most important financial and legacy goals.
By allowing the CPG Team to review your investment portfolio, insurance coverage, estate plan, tax plan and legacy objectives, we are able to look at your wealth in a comprehensive manner, adding value each step along the way.
the cpg vision
At CPG our sole mission and single vision is to help families set and achieve their financial goals.
who we serve
Typically, CPG clients are families with investable assets of $500,000 or more. However, we also plan, invest and assist other clients when we feel the relationship is the right fit both for CPG and the client.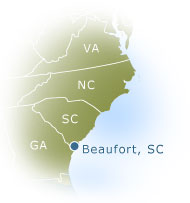 location & geographic service area
Headquartered in Beaufort, South Carolina, CPG serves clients throughout the South Carolina Lowcountry, Georgia, North Carolina, and Virginia .

jack worrell, CFP®

Born and raised in Beaufort, South Carolina, CPG founder Jack Worrell attended Beaufort Academy and the University of North Carolina at Chapel Hill. He received his Certified Financial Planner training at the Moore School of Business at the University of South Carolina in 2004, and holds insurance licenses in Life, Health, Property and Casualty.
A family man who enjoys golf and fishing, Jack is married to Courtney Tucker Worrell, and has a son, Jack Carter Worrell III.